Interview bei RADIO DISCOVERY mit MONI & THOMAS JAUER von HEARTBEAT
Teil 1:
Teil 2:
Teil 3:
Teil 4:
— ☆☆☆ — 
Cat The Cat of First Child
by 

Publisher

 
Cat The Cat, the lead singer and bass player for the German classic rock band First Child was generous with her time and agreed to be interviewed by e-mail. We e-chatted about their latest album, the band and its songwriting process, working with producer/engineer/musician Thomas Jauer, and the future of First Child.
Hardrock Haven: Hi Cat! Thanks for taking the time to visit with the readers of Hardrock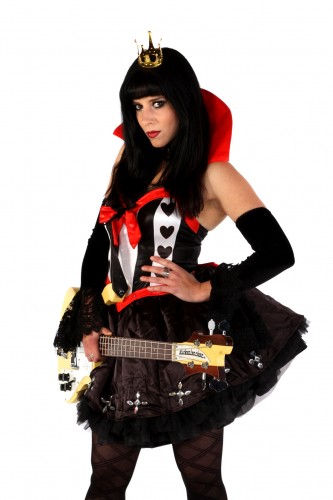 Haven.
HRH: Please tell our readers a little bit about yourself and your music background. Who inspired you and influenced your style?
Cat The Cat: (I was) inspired and influenced by Led Zeppelin, Rainbow, SRV and all these '70s Hard Rock guys. I grew up in Frankfurt. My father is a producer, arranger and songwriter. I grew up in a musician home. My parents always encouraged me a lot and I took keyboard lessons when I was very young. At the age of 7, my father booked me as a singer for commercial TV spots for Mattel — mostly American playbacks with German vocals. My first pay was a lovely Barbie doll and I collected quite a few of them … Fortunately payment terms improved later on. At the age of 12 I started playing guitar, but then I found out that playing bass and singing was what I wanted — and it was a lot of fun and still is!
HRH: Why classic rock rather than one of the other more trendy styles like power or orchestral metal, or even pop?
Cat: It's because I want to be close to the "originals"; they set the benchmark and we accept that challenge — and — I'm a rock singer. I love singing powerful ballads but mainly I'm a hard rock/rock singer.
HRH: The artwork and some the lyrics on Queen of Hearts almost seem to be reminiscent of the American Old West, complete with poker games, bullets and serious gamblers. What was the inspiration?
Cat: Yes, Mary (Sue Applegate) had the idea of this gambling thing for the song "Gambler" which Thomas (Jauer) wrote. With these words in mind I was completely fascinated when Mary had the song idea of "Queen of Hearts." I knew this had to be the name of the album. I love this phrase "I've been with Jacks and Kings if you know what I mean". To me it contains a lot of rock 'n' roll. Mary came with the words and then Thomas Jauer built up the whole playback And when I read the book "Alice in Wonderland", I was fascinated by the evil queen of hearts. Two reasons to be inspired.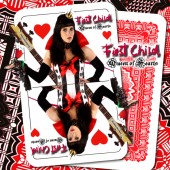 HRH: How does Queen Of Hearts differ from First Child's debut CDSouvenirs?
Cat: Unlike Souvenirs, Queen of Hearts was produced in 24 bit. Thomas Jauer was able to use a few more tube amps, more VOX AC 30 and a Fender with Jensen Speakers as well as the Marshall. He had also a Gibson J-100x, Gibson J-160 and a Gibson Hummingbird, in addition to the Rickenbacker 330 and Les Paul, a nice Fender Tele and a Strat. But he didn't use the Jackson, which was on Souvenirs. He used a Neumann M149 as well as a NEVE-Filter and the legendary 1176-Compressor for the vocals. On "QofH" Thomas played his "Chris Squire"-Rickenbacker Bass with a fat Fender bass stack.
Taking in all of these factors the whole impression was more vintage than it was with Souvenirs. And that was the goal — more end of '60s and early '70s. That's what Thomas Jauer had in mind when we started writing for it.
HRH: I know that there are some differences between First Child in the studio and First Child live. Please tell us a little about that.
Cat: The band line-up and the studio production are completely different. The songwriters are Mary Susan Applegate, Thomas Jauer (Clark Philipps is his pseudonym) and me, Cat. We don't physically write together. Mary and Thomas have been in the business for a long time and know each other for quite a while.
Thomas Jauer played all instruments on the recording. That's the way he usually works. For example, he starts with the acoustic guitars, then plays e-guitar lines, then bass guitar, drums and back to the Telecaster for solo. This way the songs are realized clearly and straight forward and a great idea has a chance of growing into a great song, that still has all the essence of the original idea.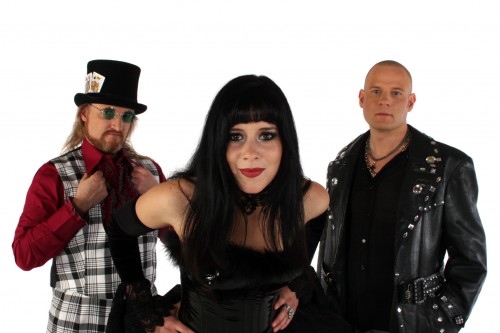 HRH: Please tell us a little about the other members of the live band, as well as your producer and engineer Thomas Jauer
Cat: Stephan Preussner plays the drums on stage. He's great! He studied drums and percussion in Vienna. Buddy S- he's also a real good guy- he studied jazz guitar in Arnheim/Netherlands-but we are all addicted to rock´n roll music. We have a lot of fun on stage and its friendship. We party a lot together.
Thomas Jauer produced both albums Souvenirs and Queen of Hearts with me. His song writing and coaching lifted my vocal performance to new levels. This cooperation also brought me closer to songwriting. If he likes one of my ideas, then he works on it until the song is perfect.
HRH: You seem to be the major player in First Child's music, getting co-credit for writing both the music (with Clark Phillips) and lyrics (with Mary Susan Applegate). How do you approach the creative songwriting process?
Cat: Most songs have been written by Thomas Jauer, Mary writes most of the lyrics. On the last album Queen of Hearts I gave Mary some ideas that she worked out in a fantastic way. I also could convince Thomas to take "Bye Bye My Baby" and "Gypsy Woman" in. These are mainly my songs. On "Every Bullet" Mary came up with the lyrics first and I put melody and harmonies on it. Thomas gave it some fine-tuning and brought this mood in by playing these special acoustic guitars, bass and drums. We were really excited about the result, especially the guitars and vocal work together so well.
HRH: What is your favorite track to play live?
Cat: I love them all. For party moments we love to play "Shout Out Devil" from the new album and "Take Off All Your Clothes" from the first album Souvenirs But I love all of them — every song has its own story and its own place in our show.
HRH: And speaking of live, what is First Child's tour plan? Is there any chance of seeing you play in the US?
Cat: Yes we are planning a European tour and are still looking for partners who want to rock with us. Onslow Records is planning to release a compilation in autumn with remixes from the first album Souvenirs and 5 DVD video clips from Queen of Hearts. We of course hope to find a distributor in the US. And once we have sold some more records, we would love to do a tour in the US.
HRH: And finally, what's next for First Child?
Cat: As Ringo said: "Tomorrow never knows". Thomas has already some really exciting songs for the next album . . .
HRH: Thanks very much for your time, and best wishes for continued success!